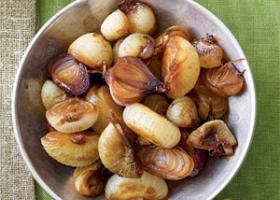 Ingredients
1/3 cup Butter
12 - 14 large Cipolline Onions
2 tbs. Sugar
2 tsp. Cinnamon
1 cup Water (or other liquid)
Instructions
Peel and core Cipolline.
Melt butter in large baking dish so that Cipolline can lie flat on bottom of dish.
Place brown sugar and dash of cinnamon in center of each.
Add liquid to dish, cover with foil, and bake 45 minutes at 350 degrees.
Remove foil and bake until tender.
Syrup will form to spoon over the Cipolline.
Serve in warm baking dish. Serves 6 to 8.
http://magicvalleygrowers.com/cinnamon-cipolline/