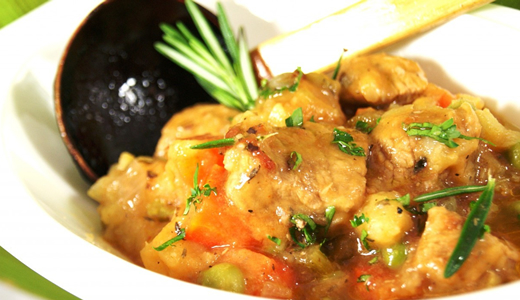 Ingredients
3 lb. Veal Cubes
1 cup of Shallots, finely chopped
1/2 cup each of chopped Celery and Carrots
Oil/butter
1 cup Dry White Wine
Chicken or Veal Stock (or unsalted, canned broth)
Optional: bouquets garni of Thyme, Bay Leaf and Parsley, or any personal combination
Instructions
Season veal cubes and dip in flour.
Sauté in small batches on all sides in a skillet.
With last batch, add shallots, celery and carrots and when meat is brown, add white wine. After it bubbles and cooks down, transfer to tightly covered Dutch oven, adding the other already sautéed veal.
Add stock until meat is 3/4 covered.
Cover and bring to a slow boil on the stove.
Transfer to oven at 250 degrees and cook for one hour, checking to ensure that the liquid does not boil away (meat should be 3/4 covered), adding more stock or broth if needed.
Remove bay leaf or bouquet garni.
May be cooled, refrigerated and reheated within three days, or frozen.
http://magicvalleygrowers.com/roasted-shallots/